Description
The Tank Level Pro BT App is essential for anyone who wants to keep track of their water tank level. With a simple set-up procedure, you will be able to see your water tank level in a matter of minutes. The app also has some excellent features, such as water tank level historical charts, water tank leakage detection and water tank estimated time to empty. You will be amazed at how quick and simple the process is, with all your water tank information displayed in a user-friendly format. So don't wait any longer, download the Tank Level Pro BT App today!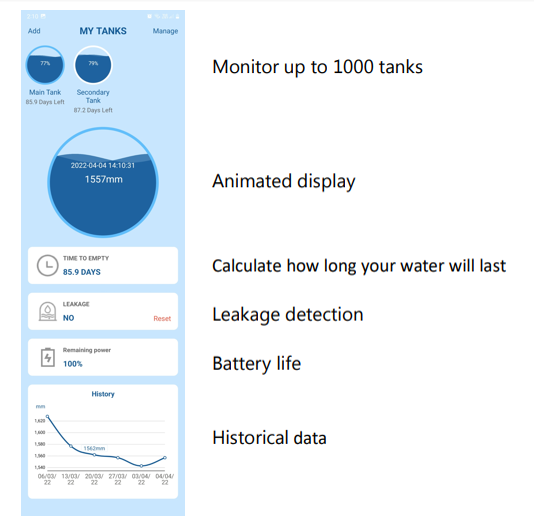 Great product, hope the history function gets fixed.
Easy installation (fortunately I had hole pre-drilled in my concrete inground tank from previous installation), setup of app very easy, accurate readings, no hassle inputting data into app. Overall quality very good. So far very happy with the device.
Damien McDonnell
2023-09-22
Handy easy little device to track your tank levels. Got more than one tank to monitor add another.
Phillip Tremewen
2023-09-20
Needed exactly what they had and they made it easy to answer all my future problems. Thanks Mickhel
Great company and staff are great!!